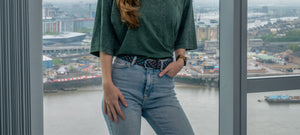 Womens Woven Belts - Designed To Meet Your Specific Comfort Requirements
Woven belts are an oldie-but-goodie. They provide a proper mix between style and comfort - and in a world where women are moving more towards fashion trends that make them feel more comfortable in their skin, these belts appear to have found the right home. 
When you use a woven belt, you're also able to represent the retro look - throwing it back to the 80s and 90s when these belts were the in-thing. It's never a bad idea to go old school, and woven belts help to easily transform any outfit you're wearing in the blink of an eye. 
The woven belt is one that many women would undoubtedly be familiar with. Many of them come with leather materials, featuring an intricately designed woven aesthetic. The best women's woven belts work just like traditional belts - they look and feel good, and they're a breeze to work with.  
At the same time, it is also possible to find woven women's belts that come with elastic materials. These belts are especially popular because they easily grow with you. As you grow older, there is a significant chance that you will also put on a little weight. These woven women's belts ensure that you don't have to rush to the store anytime soon - they grow with you, taking any changes in your weight into consideration and accommodating it properly.
A collection of women's woven belts that offer an excellent selection of choice and leaves a great impression
Fashion is all about choice. While there are a lot of people who might want to tell you what to wear and how to dress, the best fashion statement you could ever make is to put on something that is true to you and your body. 
This is one of the reasons why many people tend to go for styles that might not necessarily fit the mould. And as more women try to look for styles that they are true to, they have also shown a propensity to opt for trends that make them feel more comfortable.
Womens Woven Belts :A Style Statement More Than Just A Need
So, what makes woven belts great? For one, these belts are especially versatile. They provide a simple and reliable way of dressing, and they work especially well on all outfits. 
As a matter of fact, you don't even need to be wearing pants to rock some of these women's woven belts. You could be wearing a large shirt or even a dress and just throw a belt over it - just like that, you've got a completely new outfit!
Why Choose Swole Panda For Womens Belts UK
Swole Panda has already become the household name for womens belts in the UK . Our collection of belts is unrivalled across the country, and we're just getting started. 
With woven women's belts, we allow every woman to accentuate her look and transform her wardrobe. These belts are functional and attractive, providing the two most important benefits that any woman would want to have in anything she wears. 
Plus, you can guarantee that our prices are unbeatable. With a perfect blend of quality and affordability, no womens belts UK can beat ours. That's our guarantee! 
Traditionally, women wear belts the opposite way to men. So, while men wear their belts counter-clockwise, womens belts in the UK are to be worn clockwise.
Women can have any type of belt they would like. Woven women's belts are popular because they are comfortable and stylish, but any woman looking to spruce up her wardrobe can check out our collection to find several lovely styles. 
This will depend on the material. Most woven belts can be secured through the weave, so they can be fastened more accurately than a traditional belt.
Yes, you can. Most belts come with adjustable buckles that allow you to extend or reduce them based on your preference.
A woven belt is usually a variation of the traditional leather belt. These belts come in intricately-designed woven styles, and they can come in an array of materials.
AS FEATURED IN
Let customers speak for us